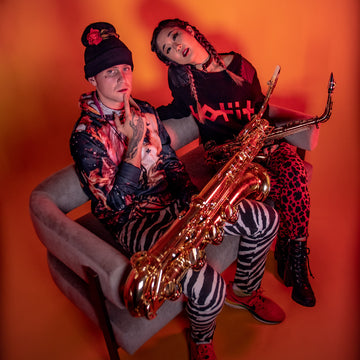 We are 2SAXY.
Grace Kelly and Leo P make up the collaborative band "2Saxy."  As individuals they have toured internationally with their bands to sold out crowds, acclaimed albums and television appearances. Together they have teamed up to bring unequivocal saxiness to the world with their chops, dance moves and colorful hair. 2Saxy's videos have attracted millions of views including hit parody videos including "Battle of the Saxes," "Sax Wars" and original music including the fan favorite "Fish & Chips."
As Grace & Leo like to say, "STAY SAXY."
Saxophonist, Singer, Songwriter
Grace Kelly
Saxophonist, Choreographer, Performer
Leo P
Management, Technology, Production
Pasha Riger
Partner With Us
Whether you're booking a show, planning a brand campaign or trying to create a never before seen experiential festival - we'd love to partner with you to bring it to life.
Work With Us